Our Technical Distinction: Spotlight on our SmartDV Compiler
---
Our newer customers are often surprised to find that SmartDV's portfolio of IP includes more than 600 distinct products and that we are usually the first-to-market when new protocols are announced.
How does SmartDV create, support, and maintain so many different IP products?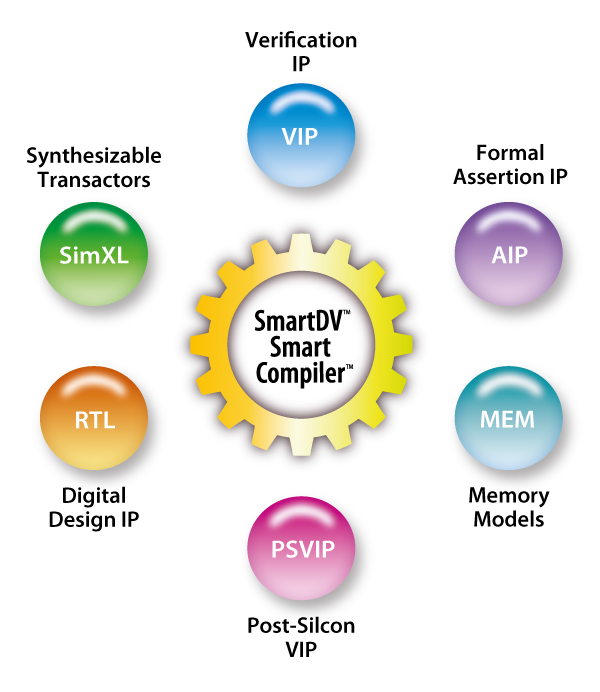 Our proprietary in-house SmartDV Compiler allows us to rapidly create and customize IP. Early on, our founders invested in developing compiler technology that would allow them to compete effectively with larger vendors with many more resources. Over the years, the SmartDV Compiler has constantly evolved and improved and along with it, SmartDV's IP portfolio has grown.
The compiler supports the creation of Verification IP, Synthesizable Transactors, Design IP, and Memory Models. Based on a proprietary high-level language and parameters that are input into the compiler it produces high-quality and consistent code. Iterating IP for new releases or customization, based on customer demand, is fast and automated. This approach is superior to typical manual efforts where quality can vary significantly and more cost effective as fewer resources are needed to create a large volume of IP. The SmartDV Compiler is truly a one-of-a-kind code generator.
In addition to generating IP code, the compiler automatically outputs about 80% of the documentation required to ship with the IP. It also generates makefiles, scripts, IP-XACT files, reports, and other necessary files and information required to support the IP.
Since we develop both Verification IP and Design IP, we are often asked about our methodology for ensuring the quality of both. SmartDV maintains separate teams for developing Verification IP and Design IP. No code is shared between the groups –– high-level input code is developed separately by each group to avoid having an inadvertent error in the Verification IP from being replicated in the Design IP or vice versa. 
Once the Verification IP and Design IP are created by separate teams, they cross-verify both against each other and then review and correct, as needed. Cross-product regressions are put in place to support the IP going forward and ensure they remain synchronized. Design IP is additionally verified via FPGA and/or by outside third parties.
Our investment in the SmartDV Compiler technology benefits you in several ways. When a new protocol is announced and available, SmartDV can quickly deliver IP to support it. As the protocol evolves over time and is upgraded or revised, we respond quickly.
From your feedback, our ability to modify our IP for your specific needs or customizations is what you value most. Using the SmartDV Compiler, we can turn around customization requests in just a few days or weeks – quite different than the market norm of months.
Visit the SmartDV website to see what's new in our IP product line.