Our Technical Distinction: Spotlight on SimXL Synthesizable Transactors for Hardware Emulation, FPGA Prototyping Platforms
---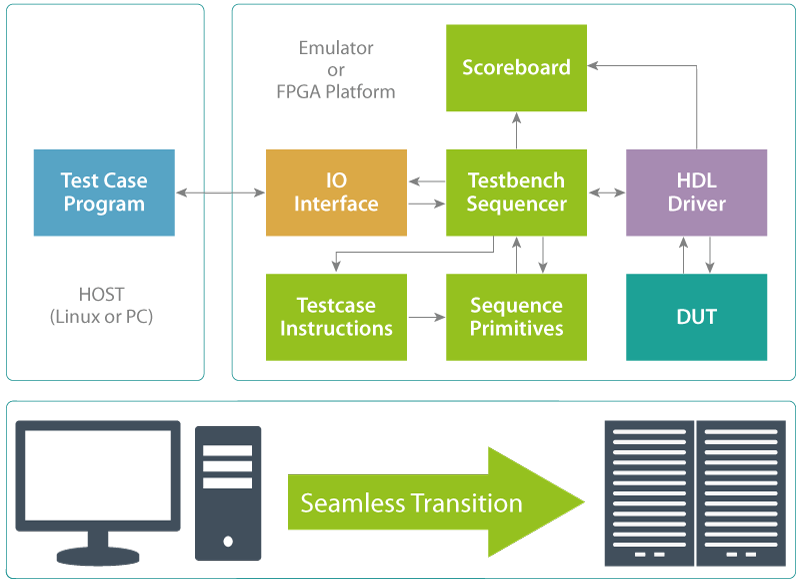 Hardware emulation—or FPGA prototyping—is an essential component in the verification process required in complex chip design programs. Global competition and time-to-market demands necessitate the need for minimizing project schedules and eliminating as much risk as possible. Ideally, the transition from software-based simulation and verification should be as seamless as possible and fast. SmartDV's SimXL product line makes this possible.
Our SimXL portfolio of Synthesizable Transactors accelerate system-level, SoC testing on hardware emulators or FPGA prototyping platforms. A configurable, reusable plug-and-play verification solution for interfaces based on industry-standard hardware verification languages, SimXL runs on Cadence Palladium, Veloce Strato from Siemens EDA, Synopsys' ZeBu and any custom FPGA prototyping system. SmartDV's SimXL VIP products are available for a wide spectrum of protocols and applications including automotive, serial bus, memory, MIPI, networking, SoC interconnect fabrics, storage, video protocols, and aerospace and defense electronics.
Developed with the same functionality and performance as our Verification IP for simulation, SimXL offers fast execution speed with advanced commands, configurations and a status reporting interface for ease of use and debug. An interface based on UVM, OVM, SystemVerilog and SystemC controls SimXL.
SimXL utilizes the same API, sequence lib, test cases, behaviors and time delays that are used with SmartDV's simulation VIPs. This full compatibility enables designs to move quickly and seamlessly from simulation to emulation without the need to translate or re-target the simulation environment for emulation. A synthesizable RTL interface with a testbench written in C/C++, SystemC or SystemVerilog links to the DUT mapped onto the emulator or FPGA prototyping tool to mimic a specific protocol. Virtual device models, application specific logs, consistency checkers, virtual speed adapters to real hardware and networks, data analysis and export functions provide the protocol-specific tools to evaluate test results.
Each SimXL synthesizable transactor comes with advanced commands, configurations and status reporting interface for ease of use and streamlined debugging. Supplied documentation includes a User's Guide with examples of how to connect components and utilize synthesizable transactors and release notes.
View our latest SmartDV product directory to see what's new in our IP product line.